We have surprises. Take a picture of your kids' room with your happy child and SUWEM furniture in it. Upload the picture to social media with the hashtag #suwem - there is a price for the most awesome ones.
WE SELECT A PICTURE EVERY MONTH
Feel free to message us if you need more information regarding the products or the online store delivery times. We always respond as quickly as possible. We do our best to answer within an hour on business days. 😀
Children's room, kid's room, kid's own room - a room where children get to do their most important job - learning through play. It is a room where they can dream and discover the world. Also, a place where to rest, hide and quietly think. Whether big or small, we offer the opportunity to furnish your kid's room with quality nature-friendly furniture that supports children's development and grows with them.
We offer kids' room furniture, primarily beds fit for all tastes, preferences and situations. Kids' room furnishing with different lengths and heights are in production. Our furniture grows with your child!
Extendable children's bed
If your child is still too young to sleep in their own room, but they are already big enough that they don't fit in a cradle anymore, the childs' bed must be placed into the parents' bedroom. Furthermore, the surface intended for this very purpose is often not suited for a full-length bed. We have the solution - an extendable children's bed with a length you can regulate yourself. The tallest option for the mattress is 184 cm. This product already comes comfortably with safety barriers for both sides of the bed. It is also possible to buy a storage box of a suitable size to go under the extendable bed.
The most classical SUWEM kids' room furniture is a low wooden children's bed or adolescents' bed that suits people of all ages, from toddlers to grownups. The most typical children's bed is 90 x 200 cm, but we also offer beds with a width of 80 cm. The widest bed option is 140 cm. All of the beds are made to fit a 200 cm mattress. To create a safe sleeping space, we also enable supplementing it with safety borders for either one or two sides, according to your needs. If desired, it is possible to also purchase a storage box with wheels that fit under the bed. It is also possible to buy an extra bed that can be pulled out from under the bed when another person is staying over, a friend for example. Under one bed fits either two small or one big storage box.
Do you wish to turn your kid's bedroom into something out of a fairytale, add mysteriousness, and give their imagination the chance to run wild? Do you still remember your childhood, building pillow forts between chairs with blankets and ending up getting told off for dragging sheets on the floor? Nowadays, there is no need to be upset with your kids - we can offer you a bed with a roof, very like a tent or even a children's house bed (with a lying surface of 90 x 200 cm). This allows creating a room within a room - something more than just a place for sleeping, a place where to play and spend quality time, even when not sleeping. If the roof becomes restrictive, it can be removed very easily.
We also offer half-tall and tall beds. The difference between the half-tall and tall bed is the height of the sleeping part. Half-tall bed's sleeping space is 75 - 105 cm off the floor, while the tall bed is even higher, 134 cm off the floor. The space under the bed can be used to create space for playing for small children - be it a pink room for a princess, a dollhouse, a mini-kitchen, or mysterious cave for a pirate, a king's chamber for a small prince, a workshop for a tiny worker or why not a store. The point is, the options are endless, and only your imagination is the limit. Here you could definitely include the child into the planning, for the outcome may be completely unexpected. We offer a slide to go with the half-tall bed, which every child would be happy about - think of what a happy start to the day a ride down the slide will give. It is also possible to place a tabletop under the tall bed and create a bunk bed with a table. The space can also be used to efficiently store toys or clothes. If the user no longer needs a place for hiding and playing, both of the beds can easily be transformed into an adolescent bed.
In a household where more than one child is sleeping in one room, SUWEM wooden bunk beds, with many sleeping places, are a great solution. We have two classical options to choose from - two similar beds, one lower, the other one higher above it. It is also possible to choose a model where the low bed is wider than the upper one, the widest option being 140 cm. And there's even more - we also have a corner fitting bunk bed that has a lower bed that can be either 80 cm, 90 cm or 120 cm wide. We have also thought of the situation, where there are more than 2 kids - the problem of sleeping places is solved by our triple bunk bed.
Do you wish to offer your children something more than just a simple wooden bunk bed? We can help you with this - a shelter-like bunk bed with a roof, a house-shaped bunk bed. Many kids don't have the opportunity to build their own treehouses and adventure there with their friends. Furthermore, people rarely even go camping these days. Children's imagination and our house-shaped bunk work great together to create fun indoorsy adventures. For safe access to the top bunk, a ladder has been installed. You can choose between a vertical ladder and a sloped ladder, depending on whichever is more comfortable and suitable for you.
We also offer drawer beds or multi-layered beds that fit really well into smaller rooms and save up a lot of space, something kindergartens typically use. Nevertheless, these beds also fit excellently into homes where more than two children need sleeping spaces. During the day, the beds can be pushed under each other, freeing up floor space for playing. When it is time for sleeping, the beds can again be pulled out and up to 4 different beds can be formed.
A new product we offer is a low bed with an extra bed. As a matter of fact, it is possible to hide an extra bed (80 x 190 x 90 cm) under another wooden children's bed. This is an ideal opportunity to get an extra sleeping place for a friend during a sleepover. An extra bed with a drawer allows creating a home for a visitor who's sleeping over.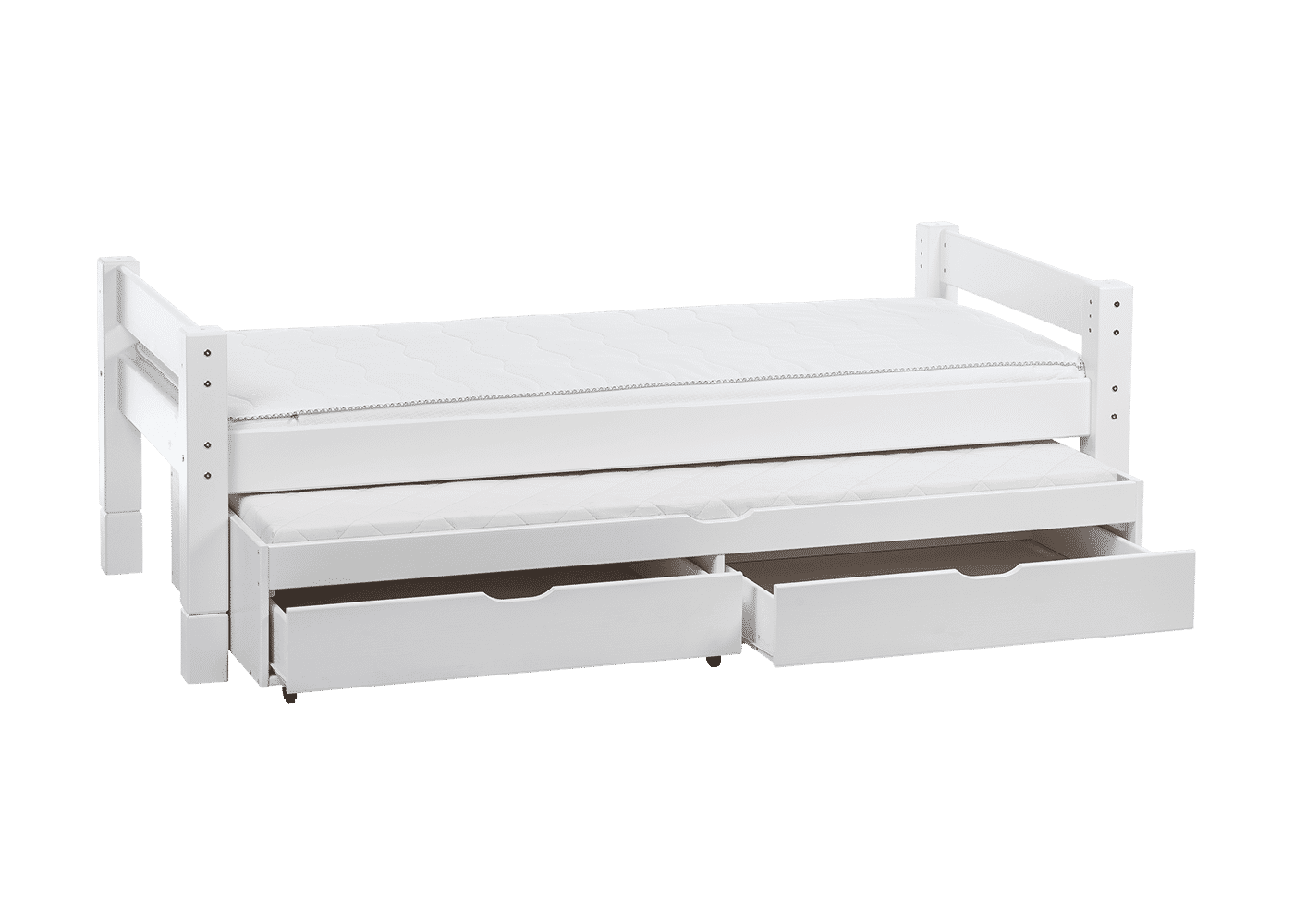 With our products, we put a lot of emphasis on safety and security. SUWEM furniture has been tested in a certified laboratory according to the standard EN- 747-1:2012+A1:2015. While processing the products, we use water-based paints that meet the EN71-3 standards. The paints don't contain formaldehyde nor release it into the environment whilst drying.